SAVAGE (Released 2010)

A blazing forest fire rips its way through Bear Mountain National Park. As the firefighters try to contain it, the animals are being forced out of their habitat including a beast that was better left undiscovered. Now several firefighters are missing or found mutilated.


When word about the fire spreads, Dale, a scientist dedicated to proving the existence of Bigfoot, hires Jack, a local Bigfoot hunting legend, to help him track the beast. Dale wishes to provide proof of the beast's existence, Jack wants to find it for revenge. Owen, a park ranger, begins poking around searching for poachers who might be interested in taking pop shots at the fleeing wildlife. He stumbles across Richard and Gabrielle, two petty criminals who are on the run from the law. Owen soon discovers that this simple arrest is anything but routine when he encounters the Bigfoot.

As the creature tears a path through the forest destroying everything and everyone it comes in contact with, Owen must race home to rescue his pregnant wife who stands in the beast's deadly path and restore order to the park.
---
---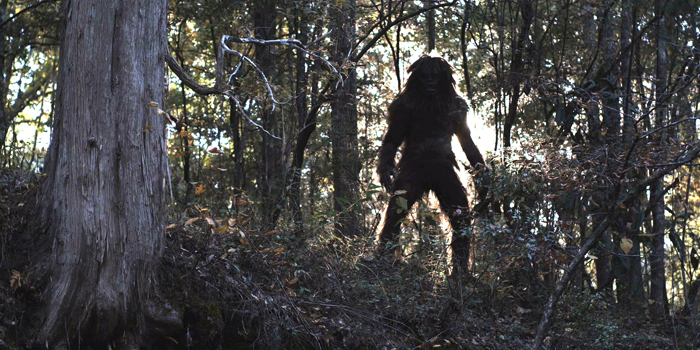 ---
Cast


Marty Kove (Jack Lund)


New York born, strong featured, narrow eyed actor who has portrayed a mixed bag of both good and bad guys! First turned up on screen in several minor roles, and got himself noticed as the villainous "Nero The Hero" in the low budget road race DEATH RACE 2000 (1975), and then as "Clem" the sadistic rigger, breaking Jan-Michael Vincent's ribs in WHITE LINE FEVER (1975). He cropped up in the hit TV series CAGNEY & LACEY (1982) as honest Police Detective Isbecki, and then got on the wrong side of rampaging Sylvester Stallone in RAMBO: FIRST BLOOD PART II (1985).

Kove probably scored his greatest visibility to the public ( in the hugely head instructor of the Cobra Kai karate school, and he reprised the role in the two sequels, THE KARATE KID, PART II (1986) and THE KARATE KID, PART III (1989).

Kove has since kept consistently busy, primarily in the action / thriller film genre, and has notched up over 80 film appearances to date, as well as numerous TV guest roles.
---
Tony Becker (Owen Fremont)


Tony Becker started in Television and Film in 1972. He learned the ropes of television acting at ge nine, playing the son of colorful old character actor, Jack Elam, on the set of THE TEXAS WHEELERS. It was the beginning of a long list of featured and guest starring, or recurring roles in many series, LITTLE HOUSE ON THE PRAIRIE, THE WALTON'S, OREGON TRAIL and others, too numerous to mention. As an adult, he appeared as a principal player in series; FOR LOVE AND HONOR, TOUR OF DUTY, and as a guest star in Movies of the Week, MATLOCK, several features and many commercials. Tony considers himself to be an actor of the old school genre. "Show up, do what you're told, and go home." There are those, however who have directed him or reviewed his work, who have deemed it, that of "a gifted and honest professional." Always a full-time actor, Tony's love for the outdoors has put him behind the camera in the past few years as Associate Producer, Writer, and Director of a cable series about back country travel, camping and adventure.
---
Lisa E. Wilcox (Ellen Fremont)


After an 8 year hiatus, Lisa E. Wilcox has recently returned back to the big screen. She completed two feature films, THE INTRUDERS and SAVAGE while also co-hosting INSIDE HORROR. Coming up in early August 2009, Lisa is off to Texas to do another feature film, IMAGO. Her very latest installment is FEAR CLINIC, where Lisa and Robert Englund, of the original NIGHTMARE ON ELM STREET feature series, re-unite once again after 20 years.

Lisa has performed in over 100 film, television, commercial and theatre productions. Starting her career in Equity Waiver theatre, then completing her Bachelor of Arts degree at UCLA, Lisa went on to play the lead role of "Alice" in NIGHTMARE ON ELM STREET 4, THE DREAM MASTER, directed by Renee Harlin. Due to the phenomenal box office success of NIGHTMARE ON ELM STREET 4, Lisa played "Alice" once again in NIGHTMARE ON ELM STREET 5, THE DREAM CHILD, directed by Stephen Hopkins. Since the Nightmare series, Lisa was a regular in the television series BILL AND TED'S EXCELLENT ADVENTURES, KNOTS LANDING, GENERAL HOSPITAL and numerous guest starring roles. Some of her television highlights include her portrayal of "Carol Brady/Florence Henderson" in the TV movie, BRADY BUNCH…THE FINAL DAYS, and STAR TREK, THE NEXT GENERATION, portraying the part of "Yuta". This episode, "The Vengeance Factor" became so prolific, that "Yuta" is featured on the Star Trek Next Generation Monopoly board game! Other film credits include MEN SEEKING WOMEN, starring Wil Farrell and she co-starred with Mark Hamill in WATCHERS REBORN. Notably, Lisa played the lead in the student foreign short film, THE ALL NEW ADVENTURES OF CHASTITY BLADE which was nominated for an Academy Award.
---
Anna Enger (Gabrielle Hanely)


Making her feature film debut as Gabrielly Hanely in SAVAGE, Anna has also played Amy in the television pilot DROP DEAD DIVA and a waitress on the television show THE BOLD AND THE BEAUTIFUL.
---
Shane Callahan (Dale Davis)


Shane Callahan started acting in Wilmington, NC. He's appeared on DAWSON'S CREEK and movie of the weeks like USA network's ABOVE SUSPICION and the Hallmark Channel's MYSTERY WOMAN. On the big screen he has been in movies like GODS AND GENERALS starring Robert Duvall and MOTHMAN PROPHECIES directed by Mark Pellington. Soon, a web series called, JUANITA SAVES THE WORLD where Callahan plays an arrogant CEO of a cosmetics company, will be viewable on the Internet. Three new features will be coming out soon. One, FORGOTTEN PILLS, a movie about four friends that experiment with a new drug. SAVAGE where he plays a bigfoot enthusiast that chases around the beast in a forest on fire and, most recently, he wrapped production of the comedy, DANGEROUS CURVES, where he plays one of the lead roles. Shane Callahan now resides in Los Angeles, CA.
---
Jack Harrison (Bigfoot)

Jack is an actor and stuntman. He has appeared in commercials for Toys for Tots and in a national PSA, IDENDITY THEFT AT THE WORK PLACE. In addition to playing Idiot in DISMAL, he was in the film SCORPION'S STORM and also portrayed Bigfoot in Fearmakers' SAVAGE. Originally from Meadville, Pennsylvania, Jack currently lives in Wilmington, North Carolina.
---
Director

Jordan Blum
Jordan Blum, a native New Yorker, began his filmmaking career at a young age attending the New York Film Academy while still in high school. In college Jordan wrote and directed several short films that garnered instant attention, including winning various Student Emmy's for his work in directing. His film DETONATE went on to win the national MtvU Best Film On Campus Contest and was handpicked by celebrity-director judges Joel Shumacher, Gus Van Sant and Allison Anders. This led to an invitation to the 2005 Sundance film festival and a pitch meeting with MTV Films and CAA.

Another short film READY FOR WINTER was chosen as a finalist in the Cadillac V-Series Under Five short film contest. The film was the only one chosen to air as a national Cadillac commercial spot during the 77th Annual Academy Awards.

Jordan's latest film THE VACATION enjoyed a successful run in many festivals, which included winning fifth at the 2005 SoCal Independent Film Festival as well as picking up the bronze plaque at the 2005 Columbus International Film and Video Festival. The film was later purchased by the distributor OUAT Media where it aired on the Movieola Short Film Channel.

Jordan currently resides in Los Angeles and works on the Fox Animated show AMERICAN DAD. He recently signed with United Talent Agency and is currently shopping several feature scripts to various studios.

A special thanks goes out to the fantastic crew who made Savage possible! The full cast and crew listing is on the Internet Movie Database.
http://www.imdb.com/title/tt1334473/

Links
Fearmakers Blog - http://fearmakers.blogspot.com/
IMDB Listing - http://www.imdb.com/title/tt1334473/